Ord Om ordet
Salige Cyprian Tansi
Engelsk tekst:
When I entered Mount Saint Bernard, the memory of Fr Cyprian, beatified four years earlier, was keenly alive. His novitiate companions were still going strong, as was Dom Ambrose, his assistant novice master. He was remembered with affection and warm humour. 
I was told how, on arriving from Nigeria in 1950, he struggled with the English winter. The abbey was bitterly cold. The only way of warming up was by taking a shower. The shower block was surveyed by his redoubtable novice master, a monk of strict observance in every sense, with a knack for observing others strictly. Hardly would the freezing novice have time to get the hot water running before the novice master would thunder on the door and say, 'Enough!' Those were the days.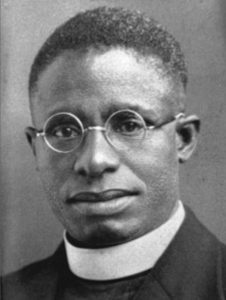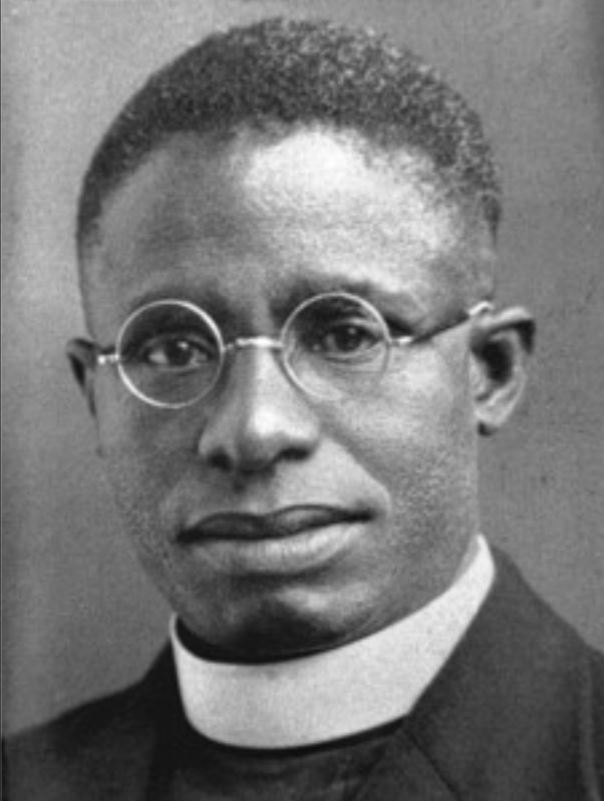 In his mature years, Fr Cyprian worked as refectorian alongside an elderly English monk, a convert Anglican priest. The two never got much done, both of them being so scrupulously polite that they spent their days giving precedence to one another: 'After you, Father!' 'No, after you, Father!'
By passing on such stories monks keep alive the memory of those who have gone before, keeping the boundaries of communion broad. In a funny sort of way, such trivial lore is also a way of hedging in the intensely personal, intensely serious mystery of monastic consecration, which pertains to the inner sanctuary. 
No one doubted Fr Cyprian's heroic commitment. No one doubted his loving attachment to the Lord. Baptised at the age of ten, in 1913, he had embraced faith consciously. He would later counsel others, 'If you are going to be a Christian at all, you might as well live entirely for God.' In so saying, he spelt out the principle on which he constructed his own existence. A childhood friend remembers, 'If you watched him praying in the church, he knelt down motionless, fixed his eyes on the tabernacle and tears gushed from his eyes.' My brethren saw much the same during Fr Cyprian's endless hours of prayer kneeling in the monastery's Lady Chapel.  
Fr Cyprian had been an effective, much respected missionary priest in Nigeria. He was demanding, even stern, but also compassionate. The fact that he had, as a child, lost sigh in his right eye (a fact which he endeavoured to conceal) gave him an innate understanding of those 'weaknesses of body or behaviour' that, as St Benedict knew, conditions every life. 
He had a keen sense of the newness of the Christian condition. It was motivated by the attraction of the Catholic faith, liturgy, and patrimony. It was also informed by awareness of what a world without Christ can look like. In 1929, when Fr Cyprian was newly ordained, working in Onitsha, a smallpox epidemic broke out in his native village. The local people attributed the spread of the disease to evil spirits. A witch hunt began. Among those singled out was Fr Cyprian's mother Ejikwevi. She was sequestered and forced to drink poison. We can only imagine the wound left by her cruel death in the heart of her son. It is all the more striking that Fr Cyprian's faith was marked by determined trust in providence. 
His monastic vocation matured gradually. He discovered the way of the monk in books; its radicality attracted him. He, who knew the extent of the mission field, was certain that evangelisation must flow from prayer. There must be, within the Mystical Body, women and men who offer themselves up to prayer unceasingly for the sake of all. He wished to make of his life this total immolation. 
He accomplished it with fortitude, graciously slipping into a life of hiddenness. 'The only refuge of a Christian', he would say, 'is courage.' He possessed that virtue in full measure. His example of burning charity challenges us to confront our half measures: 
Are we conscious of the earnest mission Christ has entrusted to us on behalf of the Church for the spread of his kingdom? 
On entering monastic life, we promised to give all and to hold nothing back. Do we? 
Are we faithful to the pledges we have made?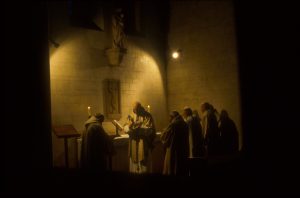 Early morning Mass in the Mount Saint Bernard Lady Chapel. Photograph by Br Martin Horwath.