Words on the Word
Requiem for Svein Eirik Fauskevåg
2 Maccabees 12:43-46: He counted on the resurrection of the dead.
Romans 8:31-39: Who can separate us from the love of Christ? 
John 11:17-27: I am the Resurrection and Life. 
In the history of ideas it happens occasionally — not often — that the perception of reality takes a quantum leap. New insight in one area requires everything to be rethought; nothing seems anymore the way it was. Such insight can be born of individuals' genius: think of Copernicus's theory about the earth's place in the universe or Freud's about the unconscious. Revolutionary insight can also spring from a collective extension of intelligence. In such cases we're suddenly surprised, in art or literature, by expressions of something entirely new sketched casually, referred to in a subsidiary clause, as if it were a matter of course. A seed has lain maturing in humanity's mind and at once sprouts everywhere, without anyone being able quite to explain how. It was time, quite simply. We find an example of such sprouting in our first reading.
It describes an event that took place during the Jews' seven-year guerilla war, fought from 167 BC, against Greek occupying forces led by Antiochus Epiphanes, a tyrant of self-proclaimed divinity. Jewish resistance was coordinated by Judas Maccabaeus. When we encounter Judas in our reading, he had been leading a revolt against Greek forces south Emmaus. He had ousted the enemy. While his army had suffered losses, the campaign had been a success. Only when his men set about burying the fallen, they discovered signs of moral defeat: all the dead bore heathen amulets under their clothing. They had compromised their faith. They had been disobedient to the First Commandment: 'Thou shalt have no other gods before me'.
Judas imagined these men standing before the judgement seat of God. He had a collection made and funds sent to Jerusalem in order that there, according to Mosaic law, a sin offering might be brought. To offer sin offerings on others' behalf was an old custom. Job did so daily for each of his sons, for he said: 'It may be that my sons have sinned, and cursed God in their hearts' (1:5). Many a devout mother or father will recognise themselves in such concern. What makes Judas's action stand for something new is the fact that the offering was brought, not for the living, but for the dead.
It was widely assumed in the ancient world, in the biblical sphere and elsewhere, that human beings at death enter a destiny that is eternally sealed. Judas opens a new perspective. It presupposes a continued, dynamic relationship obtaining between the living and the dead. It indicates that the categorical difference between them is less absolute than we imagine. Even as, in life, we often need an outstretched hand from others, be it practically, morally, or spiritually, so we can assist each other also beyond death's threshold. Prayer for one deceased is more than just pious practice for the consolation of the bereaved; it affords real support to the dead, who, after all, is 'dead' only according to our empirical (and thus limited) notions of what it is to be alive. 'Love', declares the Song of Songs, 'is stronger than death' (8:6). That's not sentiment. It is a metaphysical proposition. Love is of eternity, whereas death has to do with time. Death represents a transition, a platform change, or, to speak in Biblical terms, a pasch.
The faith Maccabaeus anticipated was manifested and confirmed by the Paschal sacrifice of Jesus Christ. By his resurrection he freed all flesh from the poisonous sting of death; by his ascension he introduced human nature into the eternal life of God. Svein Eirik's faith in this mystery was unshakeable. Not that he looked forward to death. He loved life and clung to it. In addition he was, as we know, a man who liked things to proceed in ordered, carefully planned ways. The unpredictable aspect of death was not to his liking. Still, he accepted that there was a plunge to be made. When the time had come, he threw himself confidently into the ocean of timelessness, even as he discreetly pinched, metaphorically speaking, his nose.
It may appear a paradox that this gentle, modest, attentive man, so committed to his Catholic faith, spent much of his academic career on literature that was anything but devout. Many in our congregation hardly realise how distinguished Svein Eirik was as a scholar, in what high regard he was held both in our country and abroad. When one tried to get him to talk about his work, one received clear, short answers. The conversation was then directed onto another track, often with the characteristic question, 'And how are you?' Svein Eirik was not one who readily drew attention to himself.
Central to his production was engagement with the Marquis de Sade. When Jens Bjørneboe published the first Norwegian translation of Justine ou les Infortunes de la Vertu in 1970, he equipped the volume with a bombastic preface. It hailed the Marquis as a prophet rebelling against hypocrisy and puritanism, terms which, for Bjørneboe, were practically synonymous with 'Catholicism'. Svein Eirik will have enjoyed Bjørneboe's masterly rhetoric. His own approach, meanwhile, was of a different order.
He did not have an ideological agenda. He was interested in what de Sade's works, expressions of a time that cut its moorings from established religious and political norms, might teach us about man. He called his approach 'Literary Anthropology'. It is a beautiful and fruitful category. Beyond the well-known, sensational aspect of de Sade, the libertine and violent eroticism, he was concerned with the timeless questions that find expression therein, often painfully. In his book Sade ou la tentation totalitaire (Paris 2001) he summed up these questions as follows: 'Where do we come from? What are we? How should we live? Is the human being free?' Fearlessly and carefully, Svein Eirik approached an intellectual heritage often diametrically opposed to the convictions upon which he constructed his existence. Instead of having recourse to facile polemics, he asked, 'What can we learn? What justified questions are being posed?' He exemplarily showed how we as Catholics can position ourselves in a post-Christian world striving for freedom and meaning.
In the Gospel we have heard our Lord proclaim: 'I am the Resurrection and Life; he who believes in me, though he die, yet shall he live, and whoever lives and believes in me shall never die. Do you believe this?' The question is put to Martha, Lazarus's sister. It is likewise put to each one of us. Svein Eirik took it seriously. With his beautifully lilting, Northern intonation, he formulated an unequivocal response by his life and in his death: 'Yes! This I do believe!' Let us commend him, then, to the divine mercy which he acknowledged to be the foundation and source of all things, a mercy well able to cast its protective cloak over all man's rebellions, conflicts, contradictions, hopes, and desires. We are burying a faithful and conscientious Christian, a beloved uncle and friend, an eminent scholar, a Catholic humanist who both at the university and here in the parish displayed a pastoral charism. May he rest in peace and rise in glory. Amen.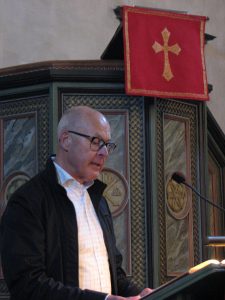 Professor Svein Eirik Fauskevåg 1942-2022