Words on the Word
Solemn Profession of Br Nicholas Palmer
Genesis 3:9-15, 20 Adam, where are you?
Ephesians 1:3-6, 11-12 He chose us in Christ to be holy and spotless.
Luke 1:26-38 I am the handmaid of the Lord.
Dear Nick, dear brother, we have the joy of celebrating your solemn profession on the feast of the Immaculate Conception. It is one of the most theological feast in the calendar. What do I mean by that? I mean that it was instituted to teach us essential truths about our Lord Jesus Christ, his Mother, and ourselves. Whereas other feasts of Our Lady recall events in her life, the Immaculate Conception is a statement about her identity. This is wonderfully expressed in St Bernadette's account of the apparitions at Lourdes. Bernadette testified that the Lady she saw had told her, 'Que soi era Immaculada Concepcion'; not 'I am the result of an immaculate conception', but 'I am the Immaculate Conception'. That is how she explained who she was. It is not a straightforward statement. In the face of it, we may feel embarrassed. To call Mary immaculate is to indicate the 'macula', the stain, the rest of us carry. We'd rather not. Further, is it not prurient to speculate how another human being was conceived, be she the Mother of God? Regarded superficially, the feast may seem to exemplify what is widely held to be a Catholic obsession with sin and sex. Let us not be content to stay at that level! Let us go deeper! This is a feast about the nature of redemption. It puts us face to face with momentous questions. Who is Jesus Christ? Why did he come into our world? What did he do for us, and how? These questions have resounded in your soul for years, Nick. They have troubled you, attracted you, refusing to leave you in peace. They are at the heart of the oblation you make today. Your life as a monk will be your answer. Before you profess your vows, then, let us look at the stakes involved. Let us consider the mystery of redemption as the Church puts it before us today.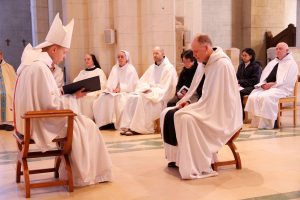 Our reading from Genesis provides a snapshot of the human condition after the Fall. It is a sad picture. The trust that had defined man's relationship with God is shattered. Adam and Eve, no longer tending Godward, collapse into themselves in a shock of existential poverty. From the first they were dust, of course. But God breathed into them his Spirit. He shaped them 'according to his image'. Man was called, not just to be an animal among animals, but to resemble God. Adam and Eve were to unite earth and heaven in themselves. They were as human as we are, yet ablaze with divine life, called to immortality. No wonder they stood tall, fearless, and unselfconsciously beautiful! They walked as if pulled up by an invisible thread. Then, by a free act of will, they cut that thread. How? Let us not at this point get too distracted by the apple. What matters is this: at a given point man set his own will above God's. He preferred self-satisfaction to fidelity. He proclaimed: 'I know best.' Grasping at autonomy, he found himself, though, not free, but bound, and terribly lonely. In a flash, Adam is estranged from the life of glory he had thought was his by right. He, once so light, is weighed down by a load of cares and flesh. He reaches for the thread that upheld him. It is gone. Having been cut, it can't simply be repaired. He finds that disobedience, his rebellion against love, has occasioned structural damage. Henceforth, man is dust and no more, dust and unquenchable longing. How poor he stands before us! The voice of God that had been his delight makes Adam tremble now. He is vulnerable in a world full of threats. He hides, naked, at the mercy of others' merciless eyes. Worst of all, he has lost his integrity. Confronted with what he has done, he dissimulates: 'It wasn't me!' Oh that pathetic urge to blame another – the woman, the serpent, circumstances, or whatever. Nothing shows better how far we have fallen from the heights where we used to be at home.
Brothers and sisters, when we look at our violent world, at the presumption of our race, at the anguish of so many; when we look into the darkness of our hearts: who can doubt that this story is true? Who can doubt that there is something wrong with us, something crying out to be righted? Deep down we know it is so. A persistent soul-pain refuses to accept the scandal of death; it feels constrained in this world which seems too small for us; it is tormented by nostalgia for a paradise it has never known, yet somehow remembers. Blessed be that pain! It remembers well. It is the seed of hope. And it points forward to the Immaculate Conception. To say that Mary was conceived without sin is to say that she lived unencumbered by the wages of the Fall that you and I know only too well: estrangement within; estrangement between man and woman; estrangement from the world we inhabit; estrangement from our Maker. This brokenness is healed in Mary. She calls to us exiles from the homeland regained. She shows what we were and were intended to remain. When she says, 'I am the Immaculate Conception', she means: 'I am my origin; I remain within God's intention for me.' This by no merit of hers. The Church insists that the privileges of Mary are a function of Christ's redeeming work. To recognise her as immaculate is not to say that she had no need to be saved. It is to say that she was saved in anticipation. She was super-saved! In her, God raised up a woman corresponding, for the first time since Adam and Eve, to the likeness of the Image of himself. Mary embodies original humanity. She is what we wish and long to be: whole and holy. That is how she was equipped to bear into the world the living Image in which man was made, our Lord Jesus Christ, that his power might reach out from the enclosure of her womb to the ends of the earth, repairing and restoring our race. In her, the alliance of heaven and earth is again effected in a human life.
Dear Nick, all this is not just lofty speculation! It is a programme for living that, today, you promise to follow unto death. Take care not to put the Blessed Virgin at too great a distance from yourself. Resist the temptation to paint her blue, stick a lily in her hand, and confine her to a sky-high, glass-covered niche. The Immaculate Conception is your guiding star. Note what St Paul says to the Ephesians: 'God chose us to be holy and blameless before him'. The Greek word rendered 'blameless' could equally well be translated 'immaculate'. The Blessed Virgin is what we are to become, that our lives, like hers, may give Christ a point of entry into our world. The dignity she received by 'prevenient grace' (a grace that 'goes before') is a dignity we must conquer by grace. Monastic tradition calls this conquest ascesis. You commit yourself today to an ascetic life. Your vows are its foundation. By stability you pledge to remain at God's disposal. You promise to respond to his call by a prompt, 'I am the handmaid of the Lord'; not, like fallen Adam, to slink away into the bushes. By obedience, you pledge to submit your will to God's as it comes to you in daily life. You emblazon your future with the motto, 'Let it be to me according to your word'. By conversatio morum you pledge to embrace God's call ever anew. For the profession you are about to make must be realised every day of your life, in ways sometimes unexpected. More than once, I assure you, some angel will bring you a commission to which, like Mary, you can only reply with consternation: 'How shall this be?' At such times, like her, do not be afraid; entrust yourself to God's providence. You will find yourself carried, even in free fall, by his 'everlasting arms'. God has high designs for you. In a moment I will read over you a most audacious prayer. I will ask God to purify you 'from all stain of sin', to 'set you on fire' with love. Dear Nick, such is the grace of your profession. Strive to live up to it! Follow the trail the Immaculate has blazed, that you, too, may be spotless!
Today is not only the feast of the Immaculate Conception. It is also the first day of the Jubilee of Mercy. With Mary we rejoice that God, in Christ, has 'remembered his mercy'. We give thanks for the mercy shown each of us. We remember that our Christian vocation is to release a flood of mercy into our pitiless world. May your life, Nick, be a dam breaker in this respect, spreading abroad the gentle but all-powerful mercy of God. May you be a living sacrament of mercy for others. And may your thankfulness for mercies received this day never cease to overflow in praise. Amen.