Words on the Word
Confirmation
Acts 1:12-14: They went to the upper room where they were staying.
1 Peter 4:13-16: If you have some share in the suffering of Christ, rejoice. 
John 17:1-11a: I pray for those you have given me.
Dear candidates for confirmation, 
Two weeks ago, on 6 May, King Charles III was crowned in Westminster Abbey. The ceremony was spectacular. If you were hooked up to the internet, you could follow it in detail from beginning to end — with one exception. After the oath of loyalty, when the time had come for Charles to be anointed, he was relieved of the splendid garments he had worn on arriving in the Abbey. He put off his purple and ermine. He looked strangely naked, vulnerable, standing there suddenly just in black trousers and a white shirt. He was led to his throne, surround by three screens, the only opening being towards the east, where the Archbishop of Canterbury stood with blessed oil. Courtiers held the screens while keeping their eyes firmly fixed on the floor: there was to be no peeping through cracks. That way we, the public, were shut out. Something was going on that we were not fit to be part of.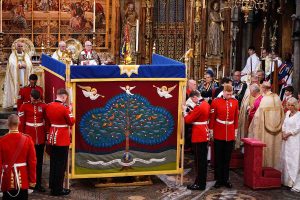 This is strange, really, in a time in which we claim the right to see everything. We are determined voyeurs. Nothing is too intimate, or too grotesque, to be displayed on a screen. This leaves traces in us, for our visual memory is strong. What the eye has seen remains in the soul. Should we wish to see that proposition proved, we only need to shut ourselves off from visual stimuli for a few days, going into a cabin in the woods. We shall be amazed at the amount of imagery we carry in us. Some of it will be beautiful and good, an inward treasure; some will be made up of horrible images we'd rather not have seen. They're there nonetheless. Our memory does not have a ready Delete button. What I have admitted to my consciousness, I must learn to live with, to negotiate.
In such a context it makes an impression when something entirely legal takes place before our eyes that we are not permitted to see, not because it is noxious, but because it is holy. England's new king certainly arrived at Westminster Abbey perfectly groomed and agreeably scented. The anointing was not a matter of ornamentation or hygiene. He was anointed on his hands, his chest, and his head. The hands represent action. The breast represent the heart's sentiments. The head represents thought.
While the ritual was carried out, the Archbishop of Canterbury prayed that the king, 'by the assistance of heavenly grace', might 'govern and preserve the People committed to your charge in wealth, peace, and godliness.' The anointing was not about increasing the king's excellence; it was a tool equipping him to serve.
No screen will be put around you, my friends, when in a moment you're anointed with sacred chrism; still, something essential and holy will happen to you, too. I will anoint you speaking your name and saying, 'Receive the seal of God's gift, the Holy Spirit'.
We hardly ever see seals now, when almost all correspondence is electronic. So let's remind ourselves what a seal is. A seal is a figure stamped in wax, a unique impression guaranteeing the authenticity of a document. A seal is personal. Each pope, for example, has his own seal. If you get a letter sealed with it, you know where it comes from. Is the seal unbroken, you know that no one else has read the letter. When a pope dies, the Cardinal Camerlengo smashes the seal with a hammer. The seal is dead; it only has significance and worth when he who owns it is alive.
When the Lord today, through the Church, sets his seal on you, he does that as a living Power. Each of you receives the seal by name. The seal guarantees that, indeed, you come from God and bear his message. As Paul wrote: 'you are a letter from Christ delivered by us, written not with ink but with the Spirit of the living God, not on tablets of stone but on tablets of human hearts' (2 Corinthians 3.3).
The grace you receive today imbues your physical being. Learn to listen out for the words written in your hearts. And remember that the voice of God can be heard through flesh and blood in bodies that are sanctified.
Our society is keenly concerned with the body. We have high expectations of our bodies. We want to look good. We look critically at the bodies of others. At the same time many struggle to be at ease in their own bodies. Just a couple of years ago, a survey established that 61% of Norwegians adolescents, girls and boys, were dissatisfied with the way they look. No one needs to say if they fall into this bracket; but if you do, you can be sure you are not the only one in this church.
Recall, then, that a Christian's body, no matter what it may look like or how it feels, carries content that is eternal. Today our Lord tells us that the Holy Spirit, the seal of God's gift, is light, truth, and freedom. Freedom, truth, and light are alive in you; that is what is confirmed today. The Word of God, the teaching of the Church and your own enlightened conscience allow you to separate light from darkness, truth from lies, freedom from unfreedom. Confirmation readies you to live holy and beautiful lives.
A human being that lives beautifully becomes beautiful. Such a human being also becomes whole. The call to holiness is not a call to become someone else; it is a call to become who you are. Ultimately, neither looks nor fancy outfits make up a person's worth or dignity.
The image of Charles III stripped for anointing concerns you. Sacred chrism makes of you today royal sons and daughters as you are. Receive wholeheartedly the gift offered you, live up to it, then be agents of blessing, service, and joy to others. Amen.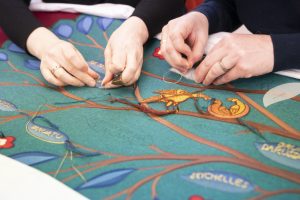 Work on the screens of anointing. Photograph: www.royal.uk.