Arkiv, Bøker
Elisabeth Paule Labat, The Song That I Am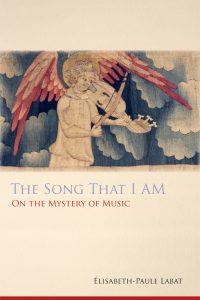 Élisabeth-Paule Labat, The Song That I Am: On the Mystery of Music, translated and with an introduction by Erik Varden (Collegeville: Liturgical Press, 2014)
From my introduction:
The motif of night keeps recurring throughout the book. Sanjuanist allusions sometimes make of it a technical term, as when we hear of the 'succession of nights' by which receptive souls are conditioned for a share in divine light; or of the 'purifying night' that is the mystic's searing pain. At other times, however, the conventional idiom is appropriated, almost subverted, with such force that a personal urgency is evident. The language of Scripture merges with that of Rilke and other 'poets of the night' to convey the longing of the Bride who seems to be abandoned in darkness, yet knows that the Bridegroom is there, invisibly present beyond the lattice wall, his hair moist with nocturnal dew. Once his presence is perceived, the night is a 'night without darkness'—yet night all the same. We sense something of the stakes involved in a solitary, familiar reference to 'my night', pierced once as by lightning in a shock of beauty through music. This is appropriate enough, for music is 'a call in the night'. Only the night can teach us to hear it as we ought. 
'A breathtaking  surge of inspired (and learned) exploration, triggered by the sound of a violin playing Mozart during an evening walk in wartime – pithy, challenging, and quite fascinating, carrying us, through music, towards 'not something, but Someone.'' Jennifer Smith. Professor at the Royal College of Music.
'A remarkable, deeply Christian meditation on the liberating power of music. Labat's essay engages profoundly but also humbly with the transformative power of music that, assisted by grace, opens us to the call of beauty.' Logos: A Journal of Catholic Thought and Culture.
'Helt siden jeg var barn har jeg gått og lurt på hva det er med musikk som evner å bevege oss så dypt, så umiddelbart. Hva skjer egentlig når vi lytter til, opplever musikk? Jeg tenkte det var verd noen francs å se om Labat kunne hjelpe meg med svar. Det var en god investering.' Eivor Oftestad i Vårt Land