Words on the Word
St Eystein
St Eystein was archbishop of Nidaros (medieval Trondheim) 1161-1188. He was proclaimed a saint by a Norwegian synod in 1229, a proclamation subsequently confirmed by the Holy See.
Ez 34:11-16: You have broken the yoke.
1 Pet 5:1-4: Tend the flock of God that is your charge 
Lk 22:24-30: I am among you as one who serves.
On this day we celebrate a holy archbishop from the village of Børsa. It fills us with pride that a saint has emerged, so to speak, from our neighbourhood. In order that we might better understand what St Eystein's holiness amounted to, the Church, our Mother, gives us a series of powerful images about Christian leadership.
We have heard Peter say to the bishops of his time: 'Tend the flock of God that is in your charge!' Ezekiel gives us the image of the shepherd looking after his sheep. In the Gospel our Lord Jesus Christ says: 'I am among you as one who serves.' At once we see Jesus before our mind's eye at the Last Supper, girdled with an apron, about to wash the apostles' feet. The focus seems everywhere placed on the familiar and local, with the sheep cozily settled in a barn and God's people seated around the kitchen table. Early in his pontificate Pope Francis remarked that a shepherd should smell of sheep. So that is how we imagine him, pottering around between the barn and kitchen. And we think: How lovely that all this is so near! Our notions of a pastoral ideal harmoniously merges with notions of local food and ecological farming.
But hang on! Don't we risk reducing the Bible's imperative to our dimensions? We easily do that. After all, we'd rather be reassured that no too great demands are made on us, that we're fine the way we are. When we turn to God in prayer, we expect him to give us a pat on the back. Surely his earthly stewards should give us one, too?
By such presuppositions we dilute God's word. We might need, therefore, to re-consider our readings briefly, simply by putting them in context.
The Old Testament image of of sheep in a meadow at sunset occurs in a book that insists, again and again, on the absolute holiness of God. The radiance of God's throne causes Ezekiel to throw himself on the ground in fear and trembling. The role of the shepherd in his prophecy is not to keep the flock company out in the open; it is to lead it home to a sanctuary in which the sheep will be brought as an oblation to God's glory. The letter of Peter likewise begins with the exhortation: 'Be holy!' That is God's call to us. For we are, Peter points out in his Second Letter, called to 'share in the divine nature'. Our very being is to be transformed. In the Gospel, Jesus goes straight from his discourse on service to the Mount of Olives, where he prays on his knees: 'Father, let this chalice pass me by!' Service in Jesus's name is not primarily about affirmative fellowship. It points towards the redemption accomplished in Christ's Blood in order that we, dead in sin, might live.
If in the light of such insight we reconsider the biography of St Eystein from Børsa, it isn't the folklore of his life that strikes us, but its universal aspect. The horizon becomes broader and higher. Eystein's personal history is revelatory. While as a Norwegian he was proudly Trønder, he was, as a Roman Catholic, part of a much larger world. He studied in Paris, at the foremost university of his day. He received his pallium in Rome. He was a personal friend of Thomas Beckett. He was part of a worldwide, world-changing enterprise. He would have scoffed at any attempt to reduce him to a local mascot alongside Munkeby cheese and Dahl's beer, though he would probably have relished both products, excellent as they are.
What really concerned Eystein was the establishment of God's kingdom on earth, not the charms of the local community. We might remember this as we prepare the millennial celebrations of an event that defined Eystein's life: the death of St Olav at Stiklestad in 1030.
St Eystein is inseparable from the legacy of St Olav. He was among our martyr-king's first biographers. He promoted the saint's cult. He extended Nidarosdomen, our country's foremost sanctuary to St Olav. Above all he knew in his body the reality of Olav's powerful intercession as one of that host of witnesses who eternally sing praise before the throne Ezekiel saw, recommending the needs of the Pilgrim Church on earth to God's mercy.
Eystein has recorded a key incident. It took place during the rebuilding of the cathedral. As patron of the works, Eystein inspected them high and low. One day he fell from the tower down onto the stone floor. 'I hit my side', he wrote, 'against the side of the vessel in which they prepared mortar; it was sharp, and I was badly hurt.' Would he be paralysed for life? It could seem that way.
The archbishop, however, did not lose courage. He trustfully prayed to St Olav, whose cause he had adopted as his own; and to the amazement of everyone he emerged unhurt – a bit stiff, but hale and healthy. For us Christians, this is the essence of St Olav's legacy. As we prepare the millennium of his martyrdom, it is not in order to shout hurrah for ourselves, or for our nation, for that matter. It is in order to thank God for letting us be part of the communion of saints; to thank him for pouring out his grace and mercy on us through the intercession of the saints.
This awareness was at the heart of Eystein's outlook on reality. May it likewise be at the heart of ours. Let us praise the Lord that Eystein, that great builder of churches, now prays for us side by side with St Olav. Amen.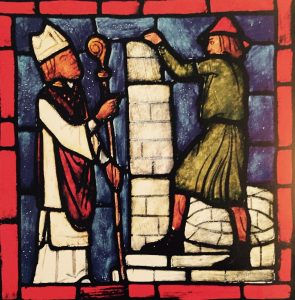 St Eystein inspecting building works. Stained glass from Nidarosdomen.