Words on the Word
Easter Day
Our Lord's glorious resurrection is a singular phenomenon in the history of mankind. Nothing like it had ever happened before. Nothing like it will ever happen again. Yet the introit the Church sets for Easter Day is a very ancient text. Our celebration does not set out from fevered situation reportage, but from a verse, a singularly peaceful verse, from a Psalm of David (Ps 138/9): 'I have risen, I am with you still. You have laid your hand upon me; too wonderful for me, this knowledge.'
In these words the Church, our Mother, recognises the voice of the Son singing through the Spirit to the Father: 'I am with you.' Faith in the resurrection lets us see who Jesus is; it illumines the mystery of the Holy Trinity. It enriches our insight that the Three are one.
Thereby we perceive just how enormous it was that the Son went through death for our sake.
For David, the incarnation lay a thousand years ahead in time. He was in no position to formulate faith in the Trinity. But the God in whom he believed, in whom he lived, whom he knew intimately, was the one Triune God. And the Lord's plan was prepared. Not for nothing do we call Christ 'Son of David'. We heard it last night, in the Exsultet: the resurrection is at the same a datable, unrepeatable event and the revelation of a pattern in God's saving action. What David glimpsed, the Son of David manifested.
How blessed we are to know the whole story. We do not have to feel our way in darkness. We walk in the light of life.
Faith in the resurrection corresponds to a deep yearning within us. Even hard-nosed atheists sense that death is a scoundrel; that there is something simply not right about human morality. The Grim Reaper who slinks about in our collective subconscious is represented as a thief. That is precisely what he is.
Christ has shown himself to be, in his weakness, the Strong Man able to tie the thief down and make him harmless. That is why the Gospel of resurrection is marked by both amazement and a sense of self-evidence. The poet Christian Bobin, who died recently, once reflected:
What convinces me in the scene of the empty tomb is the fact that no one dwells much on it. The evangelists cover it in a couple of lines. Falsifiers would have written volumes about the resurrection. I believe because there are only two lines.
Yes, our faith is grounded in reliable testimony, rooted in ancient expectation. It is also verified in the present. In the strength of Christ's resurrection, by the grace of baptism, we have become new women and men. May we anchor ourselves ever more deeply in the gift we have received.
Christ is risen! Death is dead! Let us then keep the feast in purity and truth.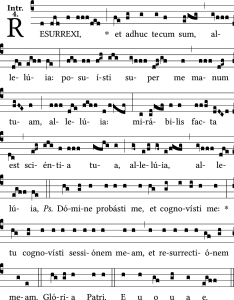 Graduale Romanum, 1908. Transcriber: Andrew Hinkley. Wikimedia Commons.