Words on the Word
Feria ij, Week XIX (2)
Jeremiah 30: 1-22: Your wound is incurable. There is no one to care for your sore. 
Matthew 14:22-36: Why did you doubt?
Recently I stood at a do-it-yourself till at the supermarket, trying to check myself out. Next to me was a lady engaged in the same pursuit. We both had trouble beeping our bananas. At one point the lady looked over at me and said: 'It won't be long now, and we'll have to perform our own surgery.' This sense of being left to our devices is strong in society. We're told it's about empowerment and efficiency. Our guts tell us something else.
Often we feel overwhelmed and, let's admit it, frightened. Our time's prophets speak messages terribly like those of Jeremiah: 'Your wound is incurable, your injury past healing.' The Secretary General of the UN announced yesterday that the world is 'one misstep from nuclear annihilation.' And all we're left with is self-help? 
In such a fix we, blessed with faith, have a task on our hands. We're entrusted with hope on the world's behalf. Hope isn't optimism. Hope is the certainty that, though we can't save ourselves, we can be saved. This is what Jeremiah says, by means of what may resemble contradiction. One moment we're told Israel's had it. The next moment we're presented with prospects of joy. Between the statements is a shift in conceptions of agency. As a human enterprise, Israel has hit the wall. But Israel was never meant to be merely a human enterprise. 'I will restore the tents of Jacob', says God, reminding us that he is not enclosed in his heaven, but fully engaged — remarkably — in our earth.
This is a time to rediscover the reality of God's burning presence in the Church, that 'lasting and sure seed of unity, hope and salvation for the whole human race' (Lumen Gentium, 9), and to turn to him with fervent supplication. Such turning is not harmless. 'Who would risk his life by coming close to me?', asks the Lord. Will we? Dearly-held illusions of autonomy must then be brought as an evening sacrifice. 
Our Gospel follows upon the feeding of 5,000 in the wilderness. All is well, it seems. Stomachs are full; all are happy; people feel secure. The next moment Jesus says to Peter, 'Step out of the boat and walk onto the sea.' There was a storm wind, for goodness' sake! Yet there was no way round this experience, were Peter to confess, out of embodied conviction: 'Truly, you are the Son of God.' We are called to make that confession ours. Let's step out trustfully, then, steering clear of mirages while moving steadfastly towards that hidden yet nonetheless unmistakable presence who says to us: 'It is I.'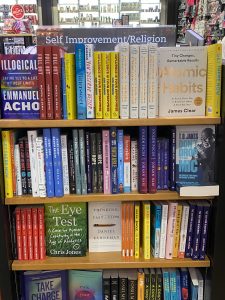 This display, which I found at an airport not long ago, instantiates the fatal assumption that religion is tantamount to self-improvement!